Welcome, welcome, for another week of Sunday Social! I am actually excited about these questions, as I feel like the further we go into the weeks, the more in depth they will get. Hopefully you'll get to know me a bit better.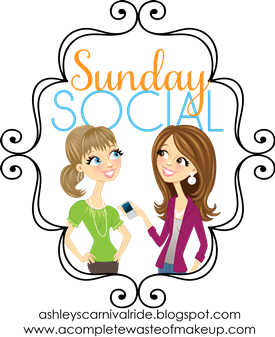 Favorite movie of all time? So easy to answer! Gone With the Wind. Hands down. I can literally quote the entire movie, pretty much. My daughter, Vivien, was named after the actress who played Scarlett, Vivien Leigh. Hence the odd spelling, but that's how she spelled it, so I just had to! (If I was going to choose something different, I would have spelled it Vivienne) 
Favorite movie quote? I love quoting Superbad and Super Troopers but some of the quotes are not, "My Mom reads my blog" friendly. So I'll go with a line from How to Lose a Guy in 10 Days: "I don't think I could be with someone who doesn't like animals and thinks I'm a *mental* person"
Best movie to watch for a girls night in? Sex and the City movies! Love! Or The Proposal.
Best breakup movie? He's Just Not That Into You.
Favorite celeb eye candy? It was ALWAYS been Scott Foley, and it always will be. He won over my heart when he was Noel in Felicity. Then I loved him in The Unit, his short lived (literally. Boo. Stupid people) career on Grey's Anatomy, and now I was super stoked to see him in True Blood.

Which movie stars closet would you want to raid? Zooey Deschanel, hands down. Her style is super boh0, yet classic and retro-esque. She always looks very feminine and she is gorgeous.