After looking at last weeks Sunday Social questions, I have to say that personally, I am glad it was a week that I had to skip (due to vacation, yaddah yaddah) because I do not feel qualified to tell anyone about my fashion. Plain words, it sucks.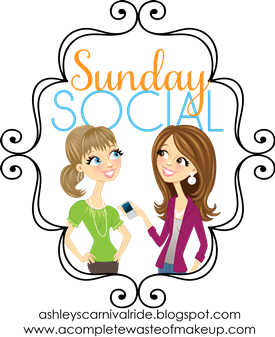 Favorite TV show of the past:
I feel like this one is a cop-out because everyone is going to say it: Sex and the City. I also really loved the show The Unit. What's that? Oh, my boyfriend Scott is in it? And he sometimes wears a military uniform in it? Weird coincidence.
I love Grey's Anatomy, and I also love the show Army Wives (even though I am ashamed to mention that one, because I know whole-heatedly that it is laaaaame.)
Which Reality Show would you NEVER do?
Fear Factor. I would be an easy target. I am scared to DEATH of spiders, and would seriously cry. Also, couples Fear Factor is out too, because Eli would cry if he had to do anything with snakes.
Which Reality Show would you LOVE to do?
The Biggest Loser. If I was able to just say adios to my family for weeks on end, I would totally apply. And I'd probably rock it too, because I am super competitive.
TV personality/character that you feel is most like you?
Charlotte from Sex and the City. Even when I was going through a divorce years ago, and was bitter and angry at life, I still couldn't escape this label.

TV character you'd want to date?
Duh. I already said this. Scott Foley. I am also strangely attracted to Jason Segal. Maybe because he's tall.