I'm pumped to link up again with Neely and Ashley for a travel themed Sunday Social!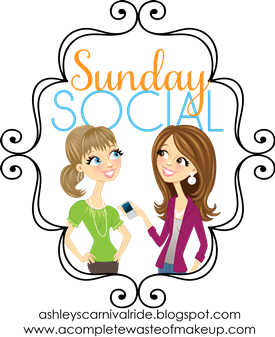 Best trip you've ever been on? This one is super duper easy for me. My trip (and honeymoon) to New York City was my absolute favorite one ever. I loved everything about NYC, and am itching to go back. The food tasted especially good too, since I was starving myself to be able to fit into my dress that I ordered a size too small to "motivate" me. It did, and I miss my wedding body. A moment of silence to mourn my loss? (Or shall I say "gain?") Plus the fact that I went in the fall and got to see the gorg colors in Central Park? Double swoon. Come soon, fall! I miss you!
Best idea for a girls weekend trip? I'd love to visit Boston to see Heather, or possibly going to a city with a fun nightlife such as San Antonio, Chicago, Nashville?
Best idea for a couples trip? I think it would be a lot of fun to rent a mountain cabin in Vail, Colorado. I don't ski, but the scenery is to die for.
Best vacation on the cheap? San Diego! I've got enough friends there that I wouldn't have to pay for a hotel.
Or Palm Springs, because 1/2 of my family lives there!
Place you most want to visit? #1: Greece. #2 The Netherlands #3 Paris #4 Hawaii #5 Ireland
Vacation/Travel necessities? Bahaha, oh, how this changes once you have a kid, as my first thought was "a portable crib?!" Otherwise, I love taking scarves for layering and changing the looks of outfits if you are limited to only taking a few staple items (unless it's summer time, then I think people look redic in scarves. #truestory. Don't wear scarves and a tank top.) If it's warmer weather, I'd say accessories to change looks. My luggage is ALWAYS hovering around the 50lb mark, even when I pack "light" so taking extra extra outfits isn't a luxury that this heavy weighted clothing person can afford. (In my defense, I am convinced that my luggage itself weighs at least 20 lbs. My makeup collection is another 10.)