Hellooooooo loooovah (said in my very best Carrie Bradshaw voice)
It's that time again! Time for another Sunday Social link up! This link up ROCKS because all I have to do is answer questions. Considering I get most of my blogging done after midnight, well, I love that.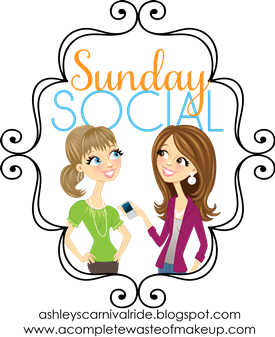 1. What is your dream job? Oh man. I would love to be a Physician's Assistant. However, I despise school…so that will never, ever happen.
2. If you had just won the lottery and didn't need to work for money, what would you do with your time? Well, I currently don't work "for money" right now, so I'm sure my husband would do a freakin' back-flip if I brought in any form of money. I've been a stay at home mom since April of this year, and it's been great. I chase around hang out with my kid all day long. We just moved into our house earlier this month, so I've been unpacking and getting settled lately. I also just started the C25K program. I figure the more I put that out there, the more motivated I'll be to keep it up, right?
3. When you were a kid, what did you want to be when you grew up? I wanted to be a Marine Biologist. Come on, man! Every kid that watched Free Willy in the 90′s wanted to be a Marine Biologist. My dreams were crushed when I actually took biology and found out that it didn't involve killer whales or doing tricks like I saw at Sea World. And then I got a "C" in biology.
4. What piece career advice would you give to someone just starting out in your field? Ok, so before I became a SAHM, I was/am an Aquatics Professional. Basically, I ran pools, managed the lifeguards & swim instructors & water exercise instructors, budget, programming, and working front line (lifeguarding and teaching swim lessons) myself when I was understaffed. So, I would tell them that managing a staff of 30 high school and college aged kids is completely different than anything they may have managed in the past. Then I would tell them to get a good texting plan, because they were constantly texting me.
I love when I get the chance to go back to my roots and teach swim lessons. I've been doing it now going on 15 years. Don't laugh at my goofy hat, the funnier the better working with 4 year olds! *Pic circa 2008*
5. Biggest Pet Peeves either in life or in blogging or at work: Sometimes I feel like the blogging community has cliques. I know that's totally normal and will happen in any sort of community though. But I am super hard on myself, so when people don't acknowledge me, I get butt-hurt.
6.  Biggest Fears: Like, in general? I hate spiders. HAAAATE. I also always have dreams that my teeth fall out, or go missing. Seriously, I wake up all freaked out and always check to see if my teeth are still there. What in the world does that mean?
Thanks for stopping by, everyone! Leave me a comment with your blog on it so I can swing by and say hi to you!
***********************************************************************
Also, I am having a give-away for a free t-shirt of your choice: check it out here!
(low entries)