Today, as I completed my most-loathed chore (grocery shopping. I DESPISE grocery shopping) I had about an hour to myself to reflect on the happenings of earlier.
Today was amazing. It all started with the fact that the Broncos had a bye-week. Don't get me wrong, I love football, however, it seems to dictate our day, and confine us to the house on Sundays. So today, I am thankful for bye-weeks.
I am also thankful that when we woke up, we were greeted with a day of weather in the 50′s-60′s, and sunshine. Over the past few weeks, the temperature has religiously been under 20 degrees, so this "warm weather" day perked up our spirits a bit.
We packed up, and headed out to the park. Vivien has been to the park and has enjoyed the baby swings before, but this is her first experience with being able to walk around the park, and play.
There was still some residual snow on the ground, but it was such a blast to watch Vivien carefully walk around, examining everything very seriouslyand trying to take it all in.
We left after about 45 minutes, and went and washed off 3 months of winter grime off the car, and Vivien fell asleep in her brand new car seat (and I was also able to put her down for a nap after getting home too!) I call it a successful day, of playing, and spending quality time, and experiencing new things together.
Two things note worthy to mention:
a) Vivien hates slides.
b) I should really look at my camera battery before leaving for places, because getting 10 pictures is not nearly good enough for me.
How was your weekend?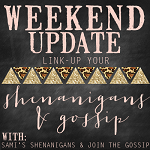 Linking Up: