Friends, I have a massive secret. Like humongous, and life changing.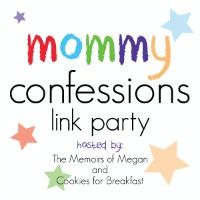 I'm not a sugar-coater, and I'm horrible at keeping secrets. Seriously, ask my best friends, they will tell you. It's like I will internally combust and spew your secret to the world. It's better now that I don't talk to people and forget most everything approximately 15 seconds after you tell me, but it's still an endearing trait that you've gotta love about me.
I Confess:
Thaaaaaaat's right!
Baby 2.0 (nicknamed either "2.0″ or "cheeto") is due to arrive around this Thanksgiving!
I can't wait to overshare every fun pregnancy detail with you! Ok, maybe not every single one, but who are we kidding? I'm a TMI, secret busting kind of girl.
Over the next week or so, I will be unleashing the onslaught of weekly updates from week 4-9, that I've been writing in secret, and have been dying to publish.
We are so excited!
***
In the meantime, link up YOUR confessions! I can't wait to read them all, amidst my mid-afternoon napping, and not doing the laundry like I should be. Hey, it's hard work growing a human!
Grab a button (or link to us)
Follow me and Heather via bloglovin'
Link up your confession
Make Mommy friends by visiting other's posts!